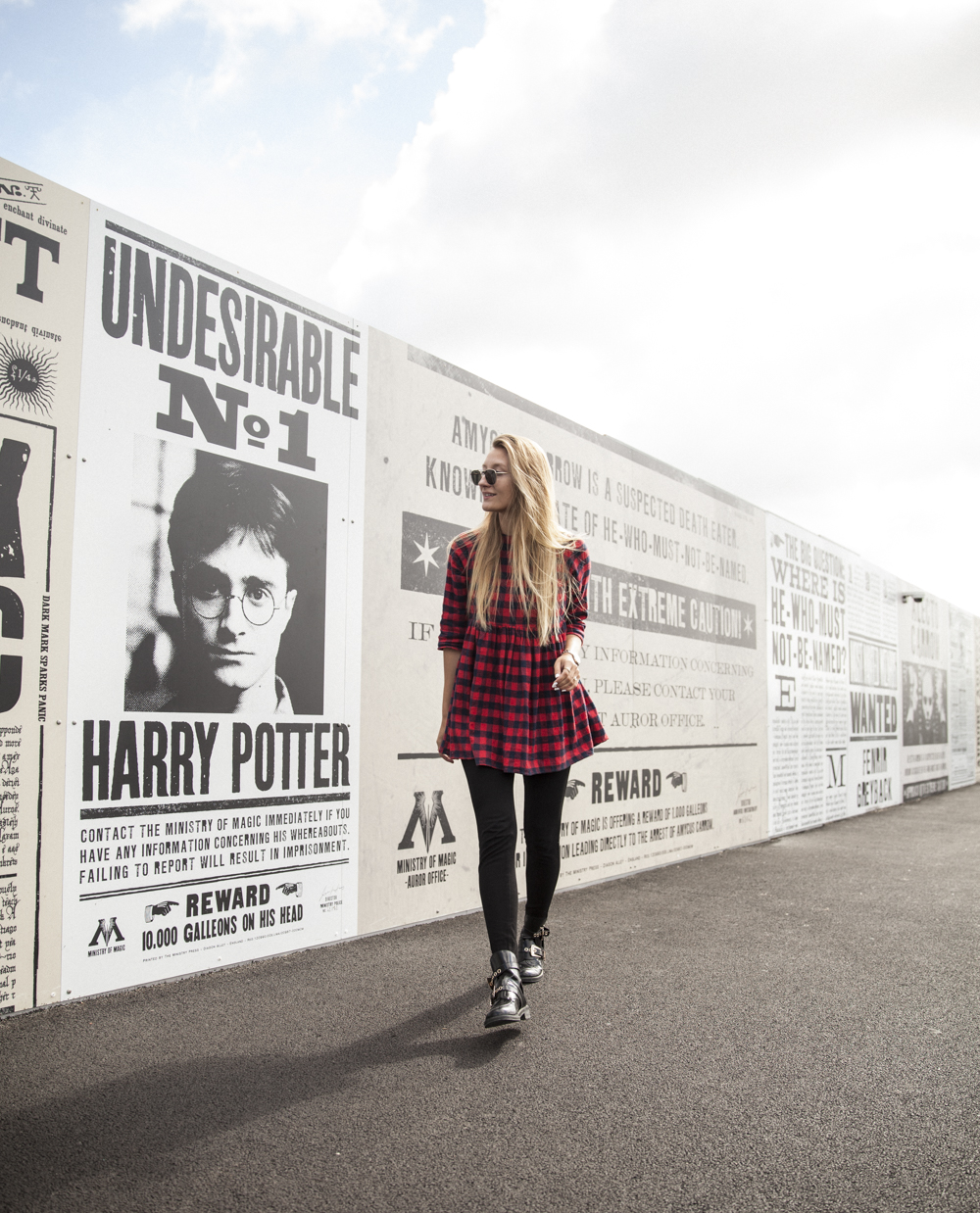 This trip was paid by Warner Bros Studio Tour London | We arrived in the Grove hotel close to London on a sunny day and started our Warner Bros Studio tour on the next morning. @noahamywhite was able to join me on the tour in order to take photos of me, thank you so much!
The magic started when on the next day we went to the Warner Bros Studio main entrance, got through the security check and then walked a long alleyway towards the main area. The alleyway is temporary and shows all the different Harry Potter quotes – when I saw 'After all this time – Always!' I nearly started crying for excitement! Harry Potter is the movie that I watched like 152893 times. I read all the books a lot of times and was the biggest fan when I was 10, placing posters of Hermione and Harry all over my room. In the entry hall you see all the main characters and the Goblet of fire – which the tour was about at the moment. So we saw the main hall, the sleeping rooms, Hagrids hut, the pink office, Dumbledores office, the costumes, the broomsticks, the flying car – everything! Everything they have is original, also the magic paintings on the wall and the house where Harry lives in – even the purple bus which can actually drive. You can see Gringotts and Olivander, buy a wand, drink butter beer and see the scetches of the Hogwarts castle and how creatures like Dragons were developed.
When you book a tour with a personal tour guide who also can get behind the barriors (I mus say it's not cheap) you have the full experience but there's also an audio guide which must be great. The tour guide told us secrets like for example that the last scene had to be refilmed but Emma Watson already cut her hair and they made a wig only for that scene. It's crazy how many details they have – for example they designed and produced 20.000 packagings of one candy for Weasley's Wizard Wheezes. You can also see a model of Hogwarts as well as a 10 meters model which was used for the landscape scenes and the original Hogwarts Express where you can walk into. You can ride on a broomstick and experience how they designed plants, dragons and Dobby. The details and how they made the characters come to life are stunning! For every Harry Potter fan I can highly recommend a visit at the Warner Bros Studio Tour in London!