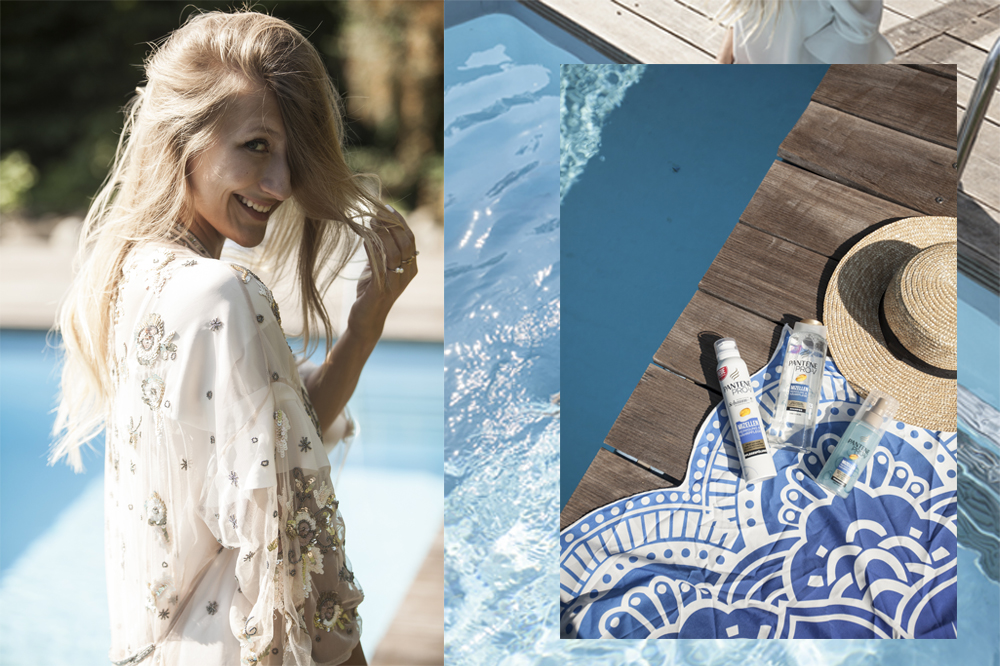 Last week we shot this very special story with Pantene* at one of my friend's houses. I had the chance to test their new micellar purify & nourish range shampoo, foam hair conditioner and treatment. My hair is as you see it in the photos: natural dark blonde, thin hair in the lengths, healthy but stressed because of the stylings for events or fashion shows. It is sleek but I curled them a bit, beach waves is my favorite hair look at the moment. Also, I wash my hair nearly every day because – how could I describe it – it's like a daily morning coffee for me. For those of you who seek a non expensive, nurturing shampoo – you should try Pantene micellar purify & nourish shampoo!
You can get it nearly everywhere in Germany (I always have the struggle to order my beauty products online because they are sold out or hard to get in Germany), and if you have a similar hair type like me, it should work perfectly for you.
The micellar shampoo combines Pro-V antioxidants and a micellar complex and is said to be a very gentle shampoo. It cleans the hair from root to tip without stripping, leaving it strong and free-flowing. The micellar foam conditioner for fine hair nourishes the hair without weighing it down. The treatment refreshes hair leaving it strong and nourished in between washes. I'm using it for one week now but my hair feels very soft and healthy. I hope you like the editorial we shot and let me know your thoughts!
The photos were taken by my boyfriend, the hair cut is fresh from Dressler Salon Munich (ask for Benny!) and the dress is from Pinko. Thanks so much to Luis for hosting us for the shoot! And yeah, can I please have your house?
*this post was written in cooperation with Pantene